The Kennedy School's Public Policy Master's Program at Harvard now will require its first-year students to take a full semester of required courses on race.
The courses, "Race and Racism in the Making of the United States as a Global Power" and "Race and Racism in Public Policies, Practices, and Perspectives," previously had been only a week-long, each. They were started as a result of last summer's "nationwide racial reckoning" and activists' calls for more classes on race and colonialism, The Crimson reports.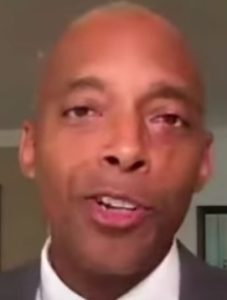 The courses feature readings by Professor Khalil Muhammad (left) who in 2018 claimed Donald Trump was "weaponizing" the fears of white people.
The president, Muhammad said, "ran as a law-and-order candidate in a country with a long history where the notion of using the police as the foot soldiers of controlling African-Americans."
According to the report, one of the (alleged) benefits of the longer courses is the opportunity for in-depth discussions. However, some still aren't satisfied:
Though she said she enjoys the class, [Grace] Park also explained that the "varying levels of experience" with the material among her classmates at times can lead to "uneven" conversations.

"I wonder if there's a model where people who feel a little bit more well-versed in the theory or have a foundational understanding of racism in the world and the United States could delve into deeper, more substantive conversations earlier," Park said.

Despite the expansion of the course from two weeks to one semester, Didier P. Dumerjean said he believed the length of the course still does not allow for deep understanding of the course material.

"I think, one semester, to be quite frank, is insufficient," Dumerjean said. "For people who have not engaged in these conversations, who do not understand how power is distributed across the globe, and how these social hierarchies persist and are pervasive, it's particularly important that you start to engage with these [topics] now given the positions of authority that we'll be in."
Student Sara Asad claimed that demand for these types of courses is greater than what Harvard currently offers: "Students want to be able to learn more about equity issues […] on a more international level, as you think about colonialism and some of the impacts and repercussions that that has had …"
Muhammad said he is optimistic about expanding race course offerings.
MORE: Students make 'diversity' demands for Harvard Kennedy School
IMAGE: Shutterstock.com, YouTube screencap
Like The College Fix on Facebook / Follow us on Twitter