At the University of Massachusetts Boston, well known as a commuter campus, Interim Chancellor Katherine Newman is being protested as a hypocrite after writing books that bemoan income inequality but approving a 150 percent hike in parking fees.
One poster on campus asks, "How can this expert on inequality demand that students and low-wage workers pay more to park than tenured faculty?"
Another declares "Chancellor Newman has made a living writing about inequality, but she still remains silent while her administration makes students and low-wage employees pay more for parking than tenured faculty."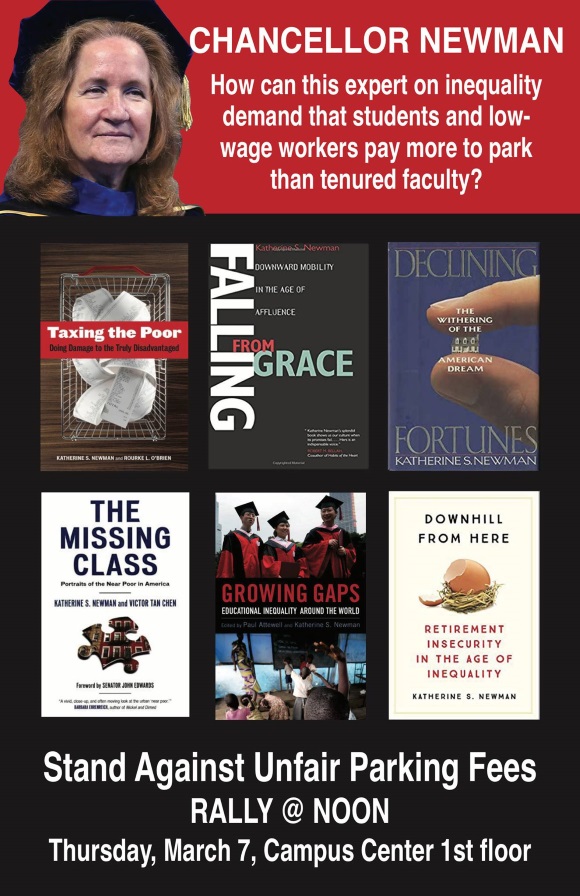 Students, staff and faculty have protested the hike, decrying Newman's "short-sighted, greedy and cruel" parking policies.
"The 'parking strike,' where protesters flagged down drivers, explained their concerns, and urged them to park off-campus or take public transport, was a response to the change in all-day parking rates at on-campus garages from $6 to $15 a day," CommonWealth Magazine reported.
At issue is the university's new $69 million Parking Garage West.
Completed in September 2018, "administration officials have said the higher parking rates are needed to cover the cost of operating the new garage," CommonWealth reported.
The decision took place under Newman, yet she is also a vocal advocate for the poor.
She is author of: "Taxing the Poor: Doing Damage to the Truly Disadvantaged," "The Missing Class: Portraits of the Near Poor in America," "No Shame in My Game: The Working Poor in the Inner City," "Falling From Grace: Downward Mobility in the Age of Affluence," and its prequel, "Falling from Grace: The Experience of Downward Mobility in the American Middle Class."
Despite these titles, it is unclear how far her sympathies go for the cash-strapped college students she represents.
What's more, some have argued the West Garage was an unnecessary expense given that there are multiple functioning parking lots on campus already. The new facility, a 500,000 square foot concrete structure, added 1,400 spaces to the campus.
But the parking lot appears to be sparsely used so far.
One student, Meaghan Grant, told the The College Fix that she finds the recent hike "disappointing" adding that she "specifically chose to attend UMass Boston because of their advertising of being a low-cost option for underprivileged students."
"UMass Boston has consistently stressed that it is a commuter school with many of the students being low income so the fact that they have no problem hiking the prices by 150 percent is disturbing and abhorrent," she said.
Newman has yet to personally respond publicly to the criticism.
MORE: Professor who teaches class bashing capitalism earns $170,000 annually
IMAGE: Fizkes / Shutterstock
Like The College Fix on Facebook / Follow us on Twitter