An elite private boarding school in Boca Raton, Florida reportedly is putting on a theater production which excludes "cisgender males."
According to a tweet by Robby Starbuck, the Episcopalian Saint Andrews School's version of the play "Men On Boats" will follow that devised by playwright Jaclyn Backhaus, who used a cast "entirely of people who are not" (cisgender) white men.
"This year's play will be 'Men On Boats,'" reads a document provided to Starbuck by a whistleblower. The story is about "a group of American explorers sent by the American government to ride down the Colorado River and claim land throughout the Grand Canyon in 1869.
"Though the explorers were all cisgender males, the play calls for the cast to be made up of actors who are not cisgender males, giving female-identifying, trans-identifying, genderfluid, and/or non-gender-conforming actors the opportunity to tell an amazing story."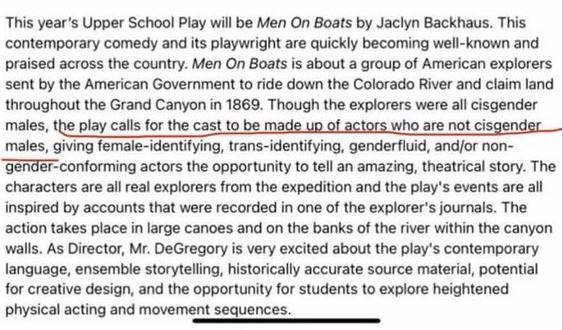 According to a late 2019 review by DC Metro Theater Arts, Backhaus's "Men On Boats" is American history "as it needs to be retold: Without a white man in sight" … it highlights the "ludicrous arrogance with which Western colonizers conquered lands."
The College Fix asked play director Tucker DeGregory for comment, including if cisgender males would be permitted to try out for roles in the production. He did not respond.
The "Equity and Justice" section of the $60,000+ boarding school's website states those concepts are among the "highest responsibilities to make [the] school a place that is safe and welcoming for all." Saint Andrews' "internal constituents" also were involved in an initiative called "Vision 2020" which laid "the foundation for the emerging anti-racist work required of all communities centered on the pursuit of justice."
Five years ago, Saint Andrews was caught up in scandal involving accusations of inappropriate teacher-student relationships, all of which were settled out of court in late 2019.
MORE: Harvard theater features '1776' with all-female LGBTQ cast
MORE: University theater segregates whites, makes them sign 'declaration'
IMAGES: Koldunova Anna/Shutterstock.com; Robby Starbuck/Twitter screencap
Like The College Fix on Facebook / Follow us on Twitter