UPDATED
Her own statements contradict her account
A black student at Wayne State University has alleged that someone or multiple people stole her floor mat and vandalized her Black Lives Matter and Gay Pride flag.
The student, Zoriana Martinez, said in a video that she had been "forcibly removed" from her residence hall after reporting the incidents, but her own statements and the university contradict this account.
"Yesterday, March 8, 2020 [sic] I was forcibly removed from my dormitory at Wayne State University," Martinez said in a Facebook video posted on March 9. Martinez said it came after she reported, to no avail, a handful of alleged vandalism incidents. She said the culprit also targeted her dog.
The video appears to be compiled from several Instagram videos — the audio issues are original to the video, downloaded from Facebook.
Martinez did not respond to an email from The College Fix on April 12 that requested a copy of the police report, video of her being forcibly removed, and a copy of an email sent by a resident advisor after the first incident. She did not respond to several emails over the past two weeks before that asked for comment on the incidents either.
On Wednesday morning, the university sent The Fix a copy of the police report. The report said that there was a vandalism incident on March 1 but does not go in much further.
A media official at the public Michigan college disputed the narrative that the university did not help Martinez.
"The student's move off campus was voluntary, and in no respect was she forcibly removed by the university," university spokesperson Matt Lockwood told The College Fix via email on April 12.
"We offered her alternate on-campus housing on two occasions, which she declined," Lockwood said. "She then requested that she be released from her housing contract, and we obliged her."
Martinez said the university "offered her a full refund" and that she had to find "emergency housing."
He also disputed Martinez' allegation that the university did not support her during the vandalism incidents.
"Contrary to views expressed in social media, the university has been actively involved from the beginning in addressing these incidents, and a police investigation is ongoing," Lockwood told The College Fix via email on March 24. "University staff are doing all they can to ensure this student feels safe and supported."
Martinez said that a resident advisor told everyone they could be discriminatory as long as it happened off-campus after the first egging incident. She said the RA said to take discrimination off of campus and off the floor.
Lockwood also disputed this claim.
"After the incident the community director cleaned up the eggs, sent a message stating that such actions will not be tolerated on campus, that Wayne State prides itself on its diversity, and encouraging everyone to act with kindness toward one another," he said. "It also encouraged anyone that felt impacted by the actions to contact their residence advisor. A follow up message clarified that the university has zero tolerance for any acts vandalism or hate anywhere at any time."
Student said someone targeted her dog
The first incident happened on February 16, according to Martinez's video.
Someone threw eggs at a Black Lives Matter sticker but Martinez said that no one helped her. Martinez said that her resident advisor told students they could be "discriminatory" as long as it was out of the residence hall.
The second incident occurred on March 1, when, Martinez alleged, "every single inch of [her] door" was hit with eggs.
Wayne State University police department interviewed her that day, she said.
The next day she said someone was "coming for me, they were coming for my dog" because the suspect stole a photo of her dog and a doormat with a paw print on it; this happened "all because [Martinez] was a black person living in their space."
MORE: Student claims police harassed him — video shows otherwise
Lockwood said the campus police "were contacted and are conducting a thorough, ongoing investigation."
"There are security cameras at the entrance and exits of the residents halls and some lobby areas, however not in hallways which are considered living spaces," Lockwood said in March. "Police have reviewed all available video and talked with each and every resident on the floor, but nothing was captured and one witnessed anything or has come forward."
Martinez "reported the first incident to the university's housing staff" but found out when she reported the second incident that "no report had been filed for the first one," according to the Detroit Free Press.
The campus police department did not respond to multiple requests for comment on the investigation.
The College Fix reached out to Lieutenant David Zarrieff twice via email, the officer in charge of the investigation, as well as an email to Lieutenant David Scott asking for an update.
Neither responded to an additional email from The College Fix on April 12 that asked for a copy of police reports filed by Martinez as well as comment on the allegations that she was removed by force from her dorm.
Black Student Union demands answers and money
The vandalism of Martinez' door has made the school's Black Student Union call on the university to prevent further incidents like this from happening again.
The group held a press conference on March 17 to present Wayne State University a list of demands that they wanted the school to fulfill.
"The group cited a list of demands," the Free Press said. The demands include "additional funding for the Department of African American Studies, an increase in faculty and housing staff with ethnic and diverse backgrounds, and a physical space for Black students on campus."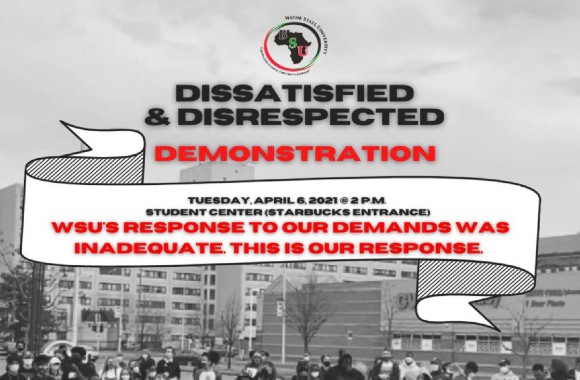 The students organized another rally on April 6, dissatisfied with the response to their demands.
MORE: Hoax? Black activist, ASU differ on status of racist graffiti investigation
Editor's note: The university sent The Fix a copy of the police report Wednesday morning and the article has been updated to include it.
IMAGE: Zoriana Martinez/Facebook
Like The College Fix on Facebook / Follow us on Twitter